Announcement – KBZPay Center for Customers in Myanmar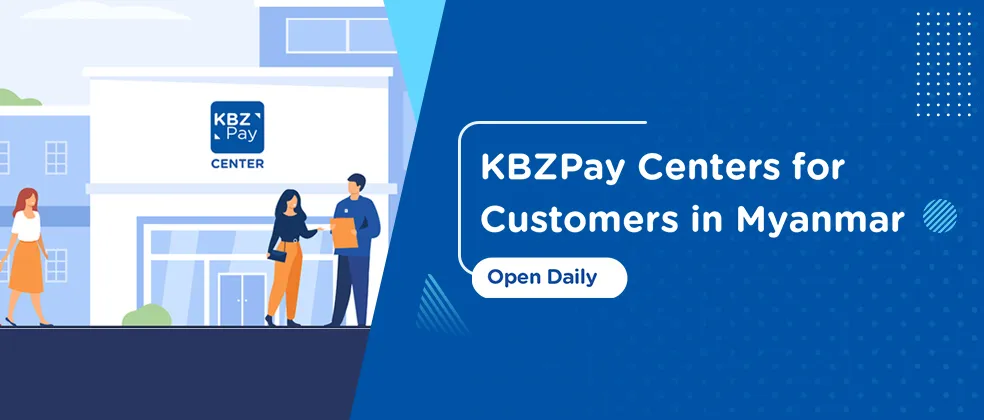 KBZPay Centers are providing the below services daily from 9:00 AM till 5:00 PM. 
Customer Onboarding KBZPay
KYC Update
Bank Account Linkage
Cash In/ Out
OTC Remittances
Quick Pay
Mobile Top Up
Bill Payment
Buy Gift Card
Travel Packages Purchasing
KBZPay Customers in Myanmar can now cash out at all KBZPay Centers without booking an appointment starting from 16th May. Customers can get all the KBZPay services including cash out and onboarding service at the agents from 9:00 AM to 5:00 PM 7day a week. The daily limit of cash in, cash out, and remittance per customer is the same as the standard daily limit of KBZPay blue apps.
The detailed locations and available services of KBZPay Centers in Myanmar are as follows:
Center Name
Center Code
Location
Times City Center
KBZPay Center 001- YGN01
Room No (217), Shop house 2, Time City Complex, Corner of Hantharwati road and Kyun Taw Road, Kamaryut Township.
MinYeKyawSwar Sein Kyun Center
KBZPay Center 002- YGN02
Beside City Mall Building, Min Ye Kyaw Swar Road
YadanarRd, South Oakalarpa Center
KBZPay Center 003- YGN03
No. 337, Ground Floor, Yadanar Street.
Sanchaung Pandonma Center
KBZPay Center 005- YGN05
No. 162, RM A1, Ground Flr, Corner of Sanchaung St. & West Myay Ni Gone St, Sanchaung Township
Yaekyaw Center
KBZPay Center 004- YGN04
Room 108, Ground floor, Corner of Bogyoke St. & Yae Kyaw St.(9) Ward, Pazundaung Tsp
ShweTaungTan Center
KBZPay Center 012- YGN08
No.490, corner of Kann Nar & Shwe Taung Tan St., 7th Ward, Lanmadaw Tsp
Hledan Market Center
KBZPay Center 013- YGN09
No.12, Hledan St., 3rd Ward, Kamayut Tsp
Anawyahtar Center
KBZPay Center 011- YGN07
No.216, 218, 220, Anawrahta Rd, 11th ward, Pebedan Tsp
HlaingTharYar TabinShweHtee Center
KBZPay Center 014- YGN10
No.02, Ground Floor, Tapin Shwe Htee & Nyaungdon St.
Tapin Shwe Htee Housing, Hlaing Tharyar Tsp.
SanYeikNyein Center
KBZPay Center 023- YGN14
No.95, ground floor,Ygn-Insein Road, in front of Ga Mone Pwint Shopping Mall, San Yeik Nyein Quarter, Ward 1, Kamayut Tsp
KyaukTada Center
KBZPay Center 022- YGN13
33/49, Mahabandula Park Street, Ward 2, Kyauktada Township
KyaukMyaung Center
KBZPay Center 021- YGN12
No. 206, Kyaikkasan Street, Kyar Kwat Thit Ward, Tamwe Tsp. (near Kyauk Myaung Zay Bus Stop)
SanPya Center
KBZPay Center 020- YGN11
No. 57, Lay Daung Kan Road, Lay Daung Kan Ward, Thingangyun Township
ShweKanTharYar Center
KBZPay Center 024- YGN15
No (9/11), Shwe Kan Thar Housing, Yangon-Pathein Road, Hlaing Tharyar
InseinGyoeGone Center
KBZPay Center 026- YGN17
No 31 / A, Mahar Thukithar Street, East Gyogone, Insein
DawBonYamonar Center
KBZPay Center 025- YGN16
No(61),Yamonnnar Road, Zayar Thiri Quarter, Daw Bon
HlaingTharYar MeeKwetZay Center
KBZPay Center 037- YGN18
No. 285A, Corner of Seinpanmyaing and Tayooyin Street, 7 Qtr, Hlaingtharyar.
ShwePyiThar Center
KBZPay Center 039- YGN19
No. 5/4-157, Corner of BoGyoke Rd & Khaing Marlar Street, Shwepyithar
Thaketa Center
KBZPay Center 040
No. 32 Zingama Street, 2 North Quarter, Thaketa Tsp
| Center Name | Center Code | Location |
| --- | --- | --- |
| | | |
| MDY Ye'MonTaung Center | KBZPay Center 009- MDY03 | 35 st Bet; 56 x 57 st , Mahar Aung Myay Tsp. |
| MDY PyigyiMyatShin Center | KBZPay Center 007- MDY01 | 30th St, Between 64×65 St, Chan Aye Thar Zan Tsp |
| MDY Manawhari Center | KBZPay Center 008- MDY02 | No. F 9/91, Room 2, Manawharry St, Between 65th & 66th St Myo Thit (2) Qtr, Chan Mya Tharsi Tsp, Mandalay |
| MDY Thanhlyetmaw East Center | KBZPay Center 038- MDY04 | Bld-Thazin-2, 41st, Between 87st & 88st, Than Hlyat Hmaw (East) Qtr, Mahar Aung Myay Township, Mandalay. |
| Meiktila Center | KBZPay Center 028- Meikhtiler01 | No 74, KyaukPaDaung Rd, Ywathit Kone, Aung San Ward (infront of Pyithu Hospital, Meikhtila) |
| Center Name | Center Code | Location |
| --- | --- | --- |
| | | |
| NayPyiTaw Center | KBZPay Center 015- NayPyiTaw01 | KBZ Bank Branch (5) 261/262/268/269 Yarza Thinga Street, Tha Pyay Gone Ward, Zabu There Tsp, Nay Pyi Taw. |
| Center Name | Center Code | Location |
| --- | --- | --- |
| | | |
| Pathein Center | KBZPay Center 018- Pathein01 | No (B-7/8), Kone Si Dine And Pwae Yone Tan, Pathein. |
| Labutta Center | KBZPay Center 035- Laputta01 | Upaing (133), Akwat (Sandar Thiri), (5/Merchant Street) Village, Labutta. |
Center Name
Center Code
Location
BGO IconMall Center
KBZPay Center 016-Bago01
No.9 (B), ICON Shopping Mall,
Yangon Mandalay Road, Clock Tower Yone Gyi Qtr, Bago
PYAY Center
KBZPay Center 019- Pyay01 (PYAY Center)
No.349 , Lanshae St. Ta Lan maung Kwae, Santaw Qtr, Pyay Tsp.
TaungOo Center
KBZPay Center 031- TaungOo01 (TaungOo Center)
No 16 / 123, Zay Street, (6) Qtr, Taungoo
| Center Name | Center Code | Location |
| --- | --- | --- |
| | | |
| Magway Center | KBZPay Center 029- Mgway01 | No.(296-B) Corner of Thukhitar Street and Mae Htee Road, Yanway Qtr, Magway |
| Pakokku Center | KBZPay Center 030- Pakokhu01 | No 38, Corner of Thiri Mahar Myoe Pat St. & Yeik Thar St, (3) Qtr, Pakokku |
| Center Name | Center Code | Location |
| --- | --- | --- |
| | | |
| Mawlamyaing Center | KBZPay Center 017- Mawlamyaing01 | No.417, Lower Road, Mayangone Quarter, Mawlamyine Tsp. |
| Thaton Center | KBZPay Center 036- Thaton01 | No.69, South of Pagoda Road, Theingone Quarter, YGN-MLM Highway Rd, Thaton |
| Center Name | Center Code | Location |
| --- | --- | --- |
| | | |
| Kyaing Tone Center | KBZPay Center 033- KyaingTone01 | No(14), Kyaing Lan(1)St, Qtr(2), Kyaing Tong |
| Nyaung Shwe Center | KBZPay Center 034- NyaungShwe01 | No.30, Lanmadaw Road, Kanthar Qtr, Nyaung Shwe (Upaing no.95) |
| Tachileik Center | KBZPay Center 27- Tachieleik01 | No. (3,4,13,20,29), Bogyoke Aung San Road, Mae Khaung Qtr, Tarchileik. |
| Taungyi Kan Shae Center | KBZPay Center 010-TGI01 | No-182, Yay Htwat Oo St, Kan (East) qtr |
| Center Name | Center Code | Location |
| --- | --- | --- |
| | | |
| Myeik Center | KBZPay Center 032- Myeik01 | No 71, Kan Phyar Street, Kan Phyar Qtr, Myeik. |
We will keep on adding more services to the KBZPay Center. Please visit our website www.kbzpay.com for information updates