KBZPay Makes a Major Push at Universities for Financial Literacy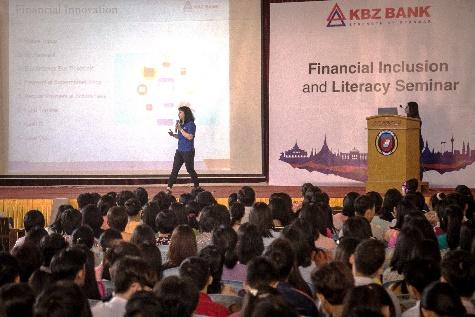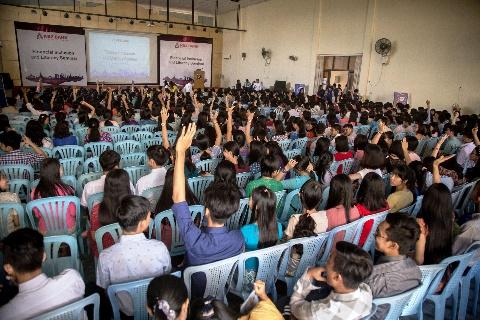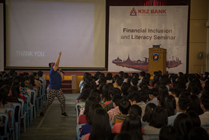 Yangon, Myanmar, 16 September 2019 – More than 10,000 students across Myanmar have attended financial literacy workshops as part of a collaborative effort between KBZPay and universities to provide financial education to the country's youth. Since January 2019, workshops have been held at 29 universities located in Ayeyarwady Division, Kachin State, Kayin State, Mandalay Region, Tanintharyi Region, Mon State and Yangon Region.
The financial literacy workshops equip participants with knowledge and skills around managing personal finances. The topics covered include the importance of saving money and how to manage it wisely, the benefits that financial technology brings to peoples' lives, tips for online safety and security, as well as guidance on how to use KBZPay, Myanmar's fastest-growing mobile wallet.
"University students now have mobile phones with data plans as well as access to digital and financial services from a very early age – a major change from just a few short years ago. Empowering students on the basic principles of financial literacy builds awareness about financial responsibility and gives them a foundation from which they can make wise choices every day. I commend KBZ Bank and KBZPay for hosting financial literacy workshop sessions for our students," said Rector Dr. Kyi Shwin, Yangon University of Foreign Languages.
Featuring lively discussions, interactive Q&As, and live polling sessions, the workshops allow students to share personal experiences and exchange perspectives with their peers.
Ko Sithu Khant Min, a student who participated in the financial literacy workshop held at Yangon Technological University, shared, "As students, we may not always think about personal finance and for some, they may not realise how important it is. The workshop conducted by KBZPay has helped us to understand financial skills that prepare us for life beyond the classroom. I am grateful for the skills gained and I hope to attend and learn from similar workshops in the future."
Building on the momentum, KBZPay aims to host financial literacy workshops in a further 44
universities in the coming months, including in Bago Division and Rakhine State.
KBZ Bank acknowledges the massive opportunity to change the lives of people in Myanmar, and
has embarked on a journey towards achieving 100% financial inclusion through universal access to a free mobile transaction account. As we take strides towards this goal, we are grateful to the universities and professors across the country for their partnership to allow our teams to share financial education with students. We will continue to go beyond the doors of the branch, humanise the banking experience, and give youth and their wider communities the means to pursue a better life," said Mike DeNoma, Chief Executive Officer, KBZ Bank.
Limited financial literacy has been identified as a key challenge for Myanmar in achieving sustainable social progress.
To overcome this challenge, KBZ Bank has recently launched a public awareness campaign titled
'Let's Talk About Money' in partnership with print, online and broadcast media partners, as well as some of Myanmar's top key opinion leaders – Dee Dee, May Thingyan Hein and Phyo Phyo Aung. Through the campaign, educational content about financial literacy and digital vigilance topics such as password security and spotting scams will be shared for the benefit of the wider public.
About KBZ Bank
KBZ Bank is Myanmar's largest privately-owned bank, with more than 500 branches. Headquartered in Yangon, Myanmar, KBZ Bank's vision is to improve the quality of life in Myanmar through banking.
KBZ Bank presently accounts for approximately 40% market share of both retail and commercial banking in the country. The bank is leading the way, particularly in digital and technology, for Myanmar's rapidly developing financial services industry through an approach that understands the opportunities of innovation, the needs of the Myanmar people and the unique context of the country's economy.
As Myanmar's economy expands and opens up, KBZ Bank sees exciting opportunities to work with international investors, providing an important and critical bridge to Myanmar's fast-growing cities, entrepreneurs and local communities. www.kbzbank.com
For media queries, please contact:
Chilli Agency
Ms Hnin Nu Lwin
M: +95 9 45223 3305
Ms May Lwin Oo
M: +959 7680 83511