Make payment with KBZPay at City Mart, Marketplace and Ocean Supercenter
KBZPay Customers can now make payments with KBZPay at the following City Mart, Marketplace and Ocean Supercenter.
Golden Valley Marketplace
6.5 Miles Marketplace
City Mart Yankin
City Mart Thamine
City Mart FMI
Mawlamyine Ocean
Ocean Taunggyi
Ocean Mingalar Mandalay
Ocean Diamond Plaza
City Mart (19th St, Mandalay)
City Mart Neighbourhood (North Okkalapa)
City Mart Aung San Branch
City Mart 47 Street
Ocean Shwe Gone Dine
City Mart Myay Ni Gone Branch
Ocean Junction Nay Pyi Taw Branch
Ocean Oaktaya Thiri
City Mart Hledan Center
City Mart Junction Zawana
City Mart Yae Kyaw
City Mart Highway, Zero mile
City Care 153rd Street
City Mart Insein Phot Kan
City Mart Dagon Seikkan
City Mart Shwe Pyi Thar Branch
Ocean Monywa
Ocean Pathein
City Mart Kyan Sit Min Hlaing Thar Yar
City Mart South Dagon
Ocean North Points
Ocean Hlaing Thar Yar
Marketplace Myanmar Plaza
Marketplace Junction City
City Mart Junction Square
City Mart Waizayandar
City Mart Junction 8
City Mart Ayer Wun
Marketplace Kantharyar
City Mart Shwe Moe Kaung
City Mart North Dagon 41Qr
Marketplace Sule Square
The following is the detailed step-by-step process to make payment.
Log into your KBZPay app to make payment and click "Scan"
Choose "Pay" and click "OK"
Show the payment QR code to the cashier
Confirm your PIN number
You have made the successful payment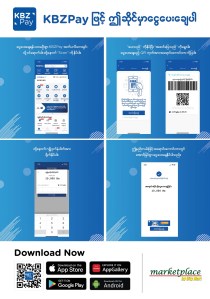 We will also announce again from KBZPay Official Account and KBZPay Official Website when the other City Mart, Marketplace and Ocean are open for payment with KBZPay.
You can also check the details in the video below.
To enhance your experience, download the latest KBZPay Version.
iOS: https://apple.co/31igRU9
Android : https://bit.ly/3rTwa2J