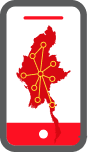 An Extensive KBZPay Partner Network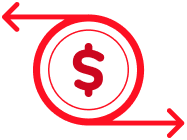 Quick and Convenient

Available to
Anyone

Encrypted and Password Protected
How it Works
KBZPay Payroll is one of the fully digital online service features of KBZPay Partner App.
Micro and SME business owners (Agents & Merchants) can run payroll disbursement to their employees with a few clicks by using KBZPay Payroll.
Customer visits Agent to request KBZPay service (airtime top-up / cash in / cash out / transfer)
Agent performs the transactions on their smartphone with the KBZPay partner app
Bank sends Approval notification to agent.
The transaction is complete, and the customer receives their receipt or notification from the bank.
Customer selects items or service and asks for the bill
Merchant shows QR Payment acceptance sign displayed at counter or static QR Code
Customer scans the QR Code and makes the payment
Bank sends notification to merchant via their device
Merchant receives notification on their device
Using an Official account is to boost your brand awareness by delivering creative multimedia content, building a partnership with influential people that are relevant to your brand, and delivering the customer analytics dashboard that lets you visualize all your account analytics for your business.